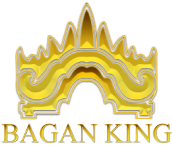 Weaves in Myanmar: Gold and Silk Embroidery​


The most widely recognized Burmese national costume is the longyi, which is worn by both males and females nationwide. However, depending on the ethnicity, geography, climate and cultural traditions of the people of each region, Burmese clothing features great diversity in terms of textiles, weaves, fibres, colours and materials. Myanmars, both men and women, proudly wear hand-woven silk materials at auspicious occasions.
In Myanmar, weaving, brought from Manipur in the eighteenth century, is a highly developed traditional art form with the distinctly Burmese complex motifs—it reached its highest form in the production of lun-taya acheik cloth. There are also distinctive textile traditions among the ethnic minorities.
Gold Embroidery (Shwe-Chi-Hto)
Embroidery is an old industry believed to have started during the reign of Alaungpaya, founder of the Konebaung dynasty. They are forms of needlework used to create a variety of pictures and detailed patterns with gold threads, silver threads, coloured threads, and other materials—such as tinsel, sequins, semi-precious gems, seed pearls and beads. The final product of shwe-chi-hto embroidery is so delicate that they requires great skill, artistry and patience to make one.
The embroidery is designed and embellished creatively with ornaments for grandeur. In each tapestry, the base cloth, usually black in colour, is adorned with metallic sequins, coloured glass beads, and figures to give a distinctive three-dimensional effect. Tapestries can vary in size, ranging from 25 x 25 centimetres to 6 x 1.5 meters. Mandalay is the centre of this cultural industry and you can have your jackets and longyis embroidered for special occasions.
The earliest record of such embroidery was the Pyu Period during the reign of King Mahayaza, about A.D. 800. The most outstanding artisans usually became court craftsmen by the royal appointment.
They sewed and embroidered all kinds of royal raiment—from headgear down to footwear—as well as furnishings for the monarch and the royal family, ministers and generals. The ancient ceremonial royal raiment worn by kings and queens was also a very heavy gold-embroidered and gem-encrusted robe—created together by skilled seamstresses, goldsmiths and other artisans of Mandalay.
Silk Weaving
Traditionally, depending on the usage of colour and the number of small bobbins for the particular design, acheiks have names like "royal thread," "6 design thread," "5 design thread," "4 design thread" to name a few. Myanmar jacket and silk longyi are worn by Myanmar men while intricate acheik designs—woven with over 100 silk threads—in plain silk blouses and silk shawls are proudly worn by Myanmar ladies.
To weave the silk fabric, the weavers wind the threads on a machine or loom, then attach the bobbins on the loom and start weaving the desired acheik patterns. The patterns are generally horizontal wavy lines of various sizes and numbers—there are up to 300 small bobbins for very intricate and complicated acheik designs. In the old days, people used to prefer the acheik with more colours whereas modern people prefer soft and smooth silk threads of only two or three colours.
Sources
https://en.wikipedia.org/wiki/Burmese_clothing
http://factsanddetails.com/southeast-asia/Myanmar/sub5_5e/entry-3087.html
http://myanmartravelinformation.com/36-about-myanmar/myanmar-arts/11-silk-weaving.html
14-bagankinghotel_com
​