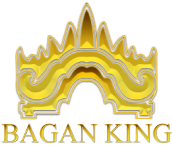 How To Get From Mandalay To Bagan​


When travelling from Mandalay to Bagan you will have several modes of transport options to choose from. There are boats to Bagan, buses or shuttle buses from Mandalay to Bagan, the infamous Myanmar train ride, or you can even hire a private driver to take you from Mandalay to Bagan. We're going to show you all the options when travelling to Bagan and you can choose what fits your travel budget and travel style.
By Boat
Taking a boat cruise down the Irrawaddy River is the most comfortable way to get to Bagan. There are a few companies running boats from Mandalay to Bagan and the prices and duration vary based on which boat trip you go on. No matter which boat you take it will be an early morning, but the upside is you'll get to see the sunrise as you're cruising down the river.
You can sit back and relax on the sundeck or join the crew who will show you how to wear the traditional Longyi, the garment worn by local Myanmar people. The staff will also explain the yellow makeup you may have noticed on the locals, it's called Thanatkha and they'll even apply some to your face if you'd like. Breakfast & lunch are included and other drinks and snacks were available for sale.
By Taxi or Private Driver
The fastest way to travel to Bagan would be by taxi or private driver. Prices are much more affordable than you would imagine. Travelling to Bagan by taxi gives you the freedom to leave when you want, let's get real no one likes to get up super early while on vacation. You will also have the freedom to stop along the way for breaks and photo opportunities.
By Train
Travelling by train in Myanmar is an experience, but it's not for everyone. The Myanmar trains are known to be nutritiously bumpy and one heck of a ride. Even if your train ticket says first class don't have too high of expectations. If you are open for an adventure we recommend taking a train at least once in Myanmar.
By Flight
It is now possible to fly from Mandalay to Bagan. The nearest airport is in Nyaung-U (NYU) which is one of the three main cities to stay in when visiting Bagan. There are several Bagan hotels here as well as some of the best restaurants. There are several airlines flying in Bagan but only Mann Yadanarpon Airlines has a direct flight from Mandalay (MDL) to Nyaung-U (NYU).
By Bus
When looking for the cheapest way on how to get from Mandalay to Bagan the bus is it. By bus, it takes at least 6 hours to get to Bagan. The buses from Mandalay to Bagan are not large coach buses, but instead mini-buses. These mini-buses are known for driving crazy and overloaded with people. Not only will you see your life flash in front of your eyes but you'll be crammed in the van like sardines.
Source: https://www.gettingstamped.com/how-to-mandalay-to-bagan-boat-bus
https://backpackerlee.wordpress.com/2016/02/26/travelling-between-bagan-and-mandalay
07-bagankinghotel_com
​